York
York is famous for its rich history, the city was first founded by the Romans in AD71 since then has been fought over many times, notably by the Vikings who named the city Jorvik. There are many sights to be seen in the city including the largest Gothic Cathedral in Northern Europe, York Minster.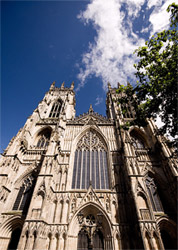 Leave London Kings Cross at 8:30am direct to York with a East Coast train arriving at 10:33am. There is a CafeBar onboard this train where you can purchase drinks and light refreshments, for First class Ticket holders a full English is included on the complimentary breakfast menu. You then have five hours to explore this historic city before continuing with a Trans Pennine Express across the "backbone" of England to Manchester where you will pick up a Virgin Pendolino train for London Euston, arriving at 8:07pm. Of course you could, if you wished, return direct from York to Kings Cross and you may wish to use this option if five hours in York is insufficient for your sightseeing.
Fares range from £14.60 to £157.50 for London to York, £21.00 from York to Manchester and range from £15.00 to £183.00 for Manchester to London. First class costs more, and can be well worth it as seats are larger and more comfortable and you will have access to the first class lounges in London Kings Cross, Euston and Manchester Piccadilly. First Class includes free refreshments on Virgin and East Coast Trains.