Vienna
Vienna, or Wien in German, was designated a UNESCO World Heritage site in 2001. Situated on the Danube, Vienna is the capital city of Austria and has always been a favourite for travellers. One of the musts to visit is the imperial palace at Hofburg, and the opera house is well worth a look too!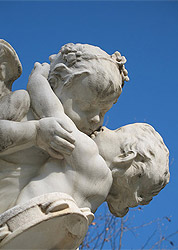 Travel on the 2:34pm Eurostar from London St Pancras to Brussels and then on to Frankfurt on the high speed ICE, after an hours wait in Frankfurt you will then join the comfortable City Night Line direct to Vienna arriving 8:35 the following morning. The return journey is a mirror image leaving Vienna West Station at 8.35pm and after changing in Frankfurt and Brussels you arrive back in London in time for lunch at 1.03pm.
The return fare for this journey starts from as little as £315.00 this is for second class travel and a berth in a 6 berth compartment overnight, sleepers are available at a additional cost and can be well worth it for the added privacy. The fares and reservations are subject to availability at the time of booking and reservations can be made from around 4 months prior to the date of travel.