European Timetables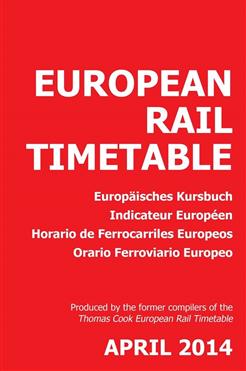 If you want to browse the European timetables there is a wealth of information available in the internet. Probably the best site for train times throughout Europe is Deutsche Bahn's website.
For 140 years Thomas Cook produced the "European Rail Timetable" which covered rail times throughout Europe. Unfortunately in 2013 Thomas Cook decided to close the publishing arm of their business to concentrate on selling holidays thus making the August edition of the European Rail Timetable the final publication.
All is not lost however, in March 2014 five of the timetable compilers from Cook's started selling the new "European Rail Timetable". The timetable can be purchased online from The European Rail Timetable Website and it contains all the information that was in the Thomas Cook version.
Also for those tech savvy travellers, InterRail have produced an app which can be downloaded. The Rail Planner app is a handy free app that offers an offline timetable and details of the InterRail benefits.