Great Continental Railway Journeys
Documentary series in which Michael Portillo continues his exploration of Great Railway Journeys by venturing into Europe.
Click here to find upcoming broadcasts of the series. A third series began on 5th November.
You too can follow in the footsteps of Michael Portillo. Ffestiniog Travel provides a comprehensive ticketing service for European rail journeys.
Episode descriptions below are taken directly from the BBC website. Journey details are approximations at the time of first broadcast.
Series 1 Episode 1 - London to Monte Carlo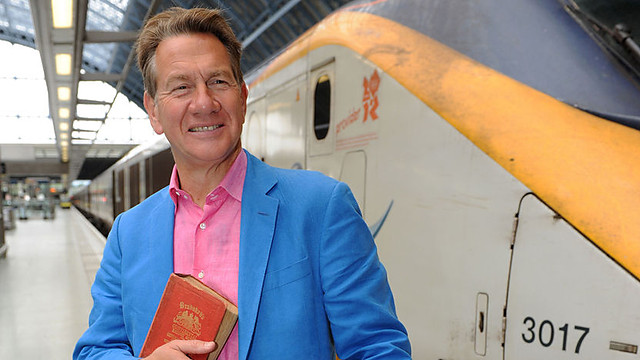 Leaving London behind, armed with his 1913 Bradshaw railway guide, Michael Portillo follows the most popular route of the Edwardian traveller through France.
His first stop is Paris where he absorbs the atmosphere of La Belle Époque, before he travels south to the Cote D'Azur where he samples the Edwardian highlife and learns why the area attracted the rich and artistic alike. He then ends his journey as he arrives at the gaming tables in glamorous Monte Carlo.
Follow Michael
As in the BBC Documentary the journey starts in the grand St Pancras terminus in London. Eurostar then takes you via the UK's only high speed line to the Channel Tunnel and onto Paris. A change of train, and station, is required in Paris before boarding the French TGV (Train à Grande Vitesse) which whisks you to Marseille. From there follow Michael along the coast to visit La Ciotat, Antibes and Nice using local trains before arriving in Monaco (Monte Carlo). Fares to recreate this journey start from £195.00 for a return ticket in second class. A Paris Visite Card would allow you to explore the Paris Metro and RER network before leaving for Marseille.
Series 1 Episode 2 - Hungary to Austria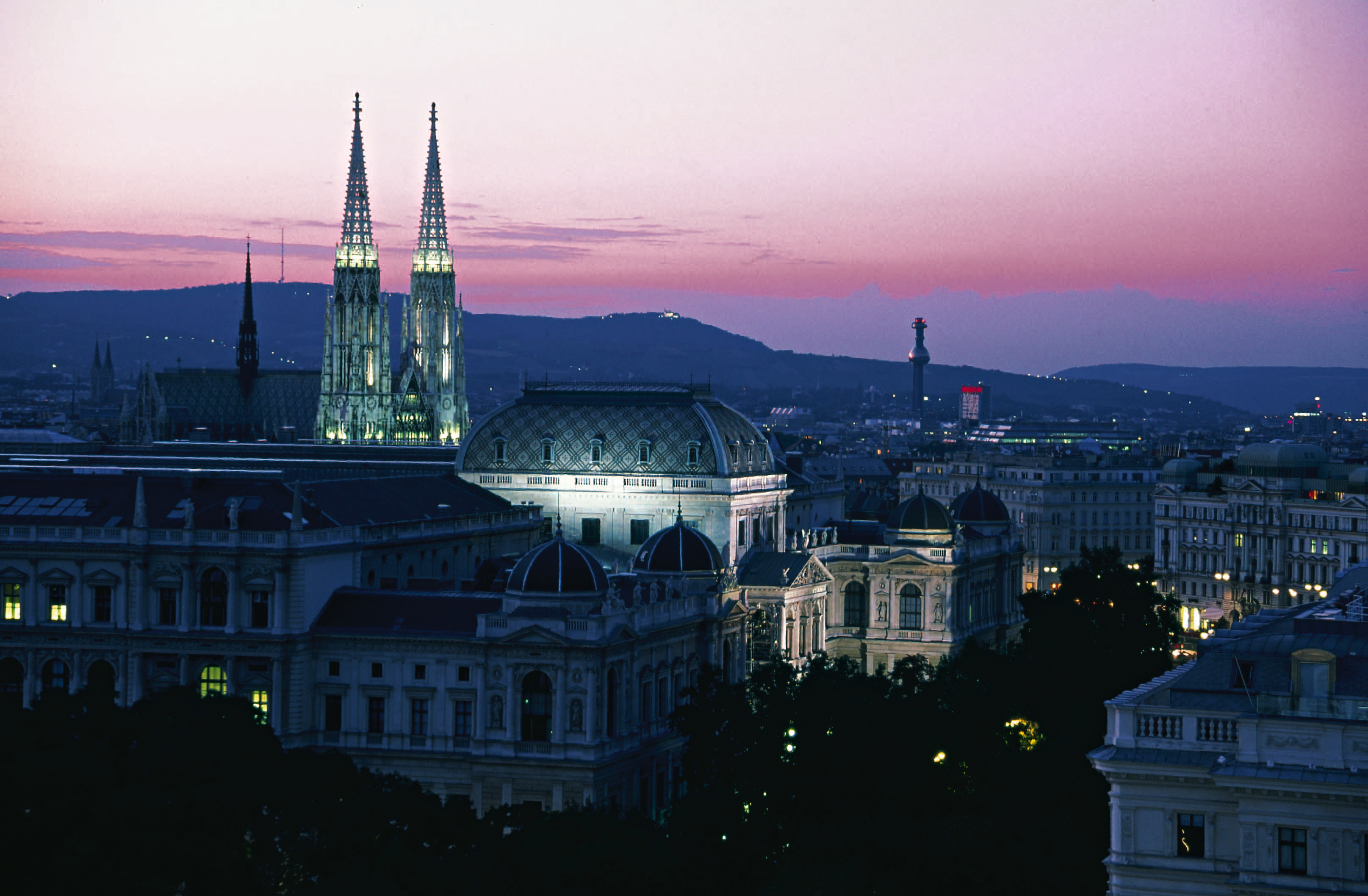 Steered by his 1913 railway guide, on this journey Michael Portillo explores the once-great empire of Austria-Hungary, domain of the famous Habsburg monarchs. Starting in Budapest, the capital of Hungary he travels via Bratislava in Slovakia, to the beautiful and elegant city of Vienna where he immerses himself in pre-war decadence. From there he travels to Salzburg, before heading to the magnificent scenery of the Salzkammergut region to visit the emperor's Austrian summer house at Bad Ischl, where in 1914 European history changed course forever.
Follow Michael
This week, after looking around the historic Nyugati station Michael Portillo begins his journey from Keleti station in Budapest. Travel from Budapest to Bratislava, then take a catamaran along the Danube to Vienna. After exploring Vienna travel on the new high speed RailJet service, reaching speeds of up to 200km/h, to Salzburg. Fares start from £135.00 in second class, including a day trip to Bad Ischl but excluding the catamaran. The catamaran cruise can be booked direct with Twin City Liner online. You may wish to include City Travel Cards to explore the cities visied.
Series 1 Episode 3 - Berlin to the Rhein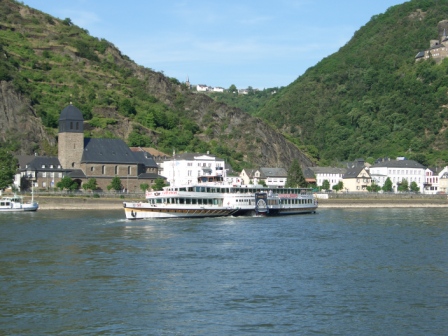 Michael begins this journey in Berlin, the capital of Germany, which at the beginning of the 20th century was a powerhouse of science and technology. Led by his 1913 railway guide, he then heads west via the picturesque Harz Mountains to the industrial Ruhr Valley to learn how imperial Germany was war ready. He then travels south along the tourist trail of the castle-studded Rhein river and ends his journey in the Rheingau to taste the wines of its age old vineyards.
Follow Michael
Begin your journey by travelling from Berlin to Hannover, via Magdeburg. After exploring the city travel to Wernigerode, and allow a few days to explore the "Harzer Schmalspurbahen" (HSB) in the Harz Mountains. Then onwards to Wuppertal for a ride or two on the famous Schwebebahn suspension railway hanging from it's rails. End your journey in style by travelling along the banks of the Rhine, one of our favourite scenic routes, stop in Koblenz if you wish and then finally on to Erbach. Fares start from £210.00 for a single journey in second class including a three day ticket for the HSB and a Länderticket valid on the Wuppertal Schwebebahn.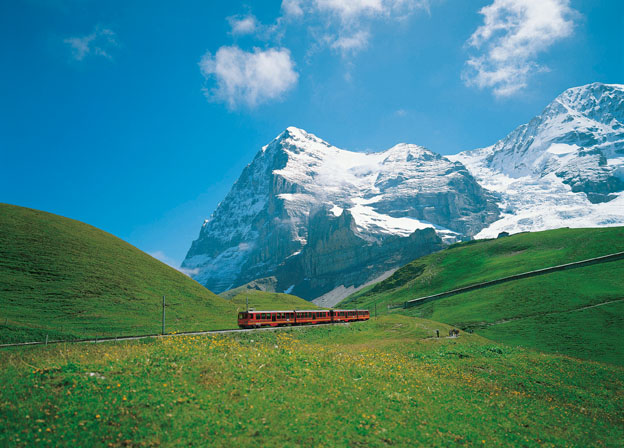 Series 1 Episode 4 - Switzerland
He begins in the truly international city of Basel and travels east to visit industrial Zurich. He then heads for the glorious Alps and learns how astonishing engineering feats conquered the most challenging peaks, before taking in the striking beauty of Lake Lucerne.
Michael's journey ends with a spectacular ascent by train to Europe's highest station, perched atop Switzerland's dramatic Jungfraujoch.
Follow Michael
Basel is at the border of Switzerland, France and Germany. Begin your journey at Basel SBB, the Swiss station, and travel through Brugg and Baden before reaching Zürich HB. Then travel onwards to Chur. From Chur travel on the famous Glacier Express to Andermatt, change trains here for Goschenen and the amazing railway engineering that is the Gotthard route to Fluelen. A paddle steamer will take you across Lake Lucerne. The town of Lucerne makes a perfect base for visiting Meiringen, the Reichenbach falls and of course the Jungfrau Railway. The most cost effective way to recreate this journey is to purchase one of the range of Swiss Passes which give unlimited free rail travel on most railways in Switzerland and much more. They also give a 25% discount on the Jungfrau line from Grindelwald, discounted tickets can be purchased on board Swiss trains and currently cost CHF67.50. The Glacier Express requires a reservation costing just £10, and lunch can be prebooked at around £30.
Series 1 Episode 5 - Amsterdam to Northern France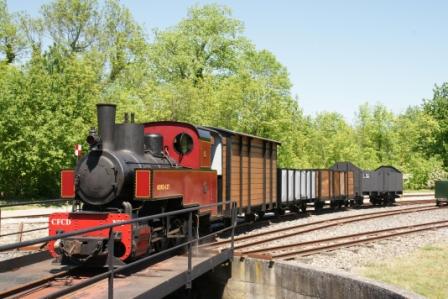 Michael Portillo uses George Bradshaw's 1913 Continental Railway Guide to explore the dazzling cities of the pre-war Low Countries beforing tasting the delicacies of Brussels. He then travels to the French sector of the Western Front, where from 1914 the trains carried a new cargo of artillery shells, with the Edwardian tourists of 1913 replaced by soldiers facing the horrors of the trenches. He will end his epic journey in the forest of Compiegne to hear how, after four years of conflict, the Armistice was finally signed in a railway carriage
Follow Michael
Start your journey by travelling from Amsterdam to The Hague, then on another local train to Rotterdam where you change to a high speed train to Brussels. After exploring Brussels travel via Lille to Mons, and onto Albert before arriving in Amiens. From there day trips to Froissey and Compiègne are possible. Fares from Amsterdam via The Haag, Brussels and Lille to Amiens, with day trips to Froissey and Compiègne start from around £130 per person. The journey from Amiens to Froissey and back is now by SNCF run coach, but you could be rewarded by a ride on the steam hauled "Le P'tit train de la Haute Somme". Trains run most Saturdays from mid April to the end of September, and daily, except Mondays, in July and August.
Series 2 Episode 1 - Madrid to Gibraltar
Armed with his 1913 railway guide, Michael Portillo returns to his native Spain to discover what the intrepid tourists of the Belle Epoque experienced on their travels through the fading Spanish empire. Hard on their heels in Madrid, he visits the scene of a grim assassination attempt at the royal wedding of a British princess and a Spanish king.
Striking south to historic Córdoba, Michael dances with an unusual partner and enjoys all the fun of the feria. Heading further into Andalusia, Michael arrives in Seville, the city he has made his Spanish home, and where, in the city's tobacco factory, he learns about a gypsy girl named Carmen.
After sipping sherry in Jerez, he traces Winston Churchill's tense diplomatic mission to Algeciras on Spain's Costa del Sol and finishes with tales of British espionage on the Rock of Gibraltar
Follow Michael
After spending some time in Madrid start your journey by travelling from Madrid Atocha to Córdoba, this take about one hour 45 minutes on a high speed AVE train. Continue to Sevilla Santa Justa in just 45 minutes and from there to Jerez De La Frontera in a further one hour ten minutes. The journey from Jerez to Ronda is not as easy as Michael Portillo made it appear. Your journey will require changes of trains in Dos Hermanas and Bobadilla, with time for lunch in Bobadilla. The scenic journey onwards to Algeciras. A bus on route M-120 operated by Transportes Generales Comes SA connects Algeciras with La Línea. Passengers must cross the border to Gibraltar on foot (walking time about 5 minutes). Fares from Madrid via Córdoba, Seville, Jerez, and Ronda to Algeciras start from around £130 per person. You may wish to include City Travel Cards to explore Madrid and Seville.
Series 2 Episode 2 - Turin to Venice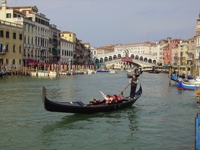 Steered by his 1913 railway guide, Michael Portillo takes the train from the former political capital of Italy, Turin, to Casanova's capital of romance, Venice.
Along the way, he recreates the famous Italian Job on an historic Fiat test track and follows fashion in Milan before investigating the early 20th century British love affair with Lake Como in a seaplane. In Verona, Michael discovers the 'House of the Capulets', bought to attract Edwardian tourists to the scene of Shakespeare's Romeo and Juliet. He then heads over the rail bridge across the lagoon to Venice, where he finds a microcosm of pre-First World War Europe in the Venice Biennale art exhibition.
Follow Michael
Fares from Torino, with stops in Milan and Verona, would start from around £130 per person. You may wish to include City Travel Cards to explore Milan and Venice. We are not able to issue tickets for the Trenord to Como Lago, but as Michael demonstrated these can easily be purchased from newsagents before travelling.
Series 2 Episode 3 - Dresden to Kiel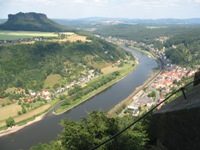 Steered by his 1913 railway guide, Michael Portillo explores Germany, the powerhouse of today's European Union, and learns how tourists in the early 20th century would have been visiting quite a new country, which they admired and envied but also feared.
Beginning in Dresden, Michael explores the city of one of his favourite opera composers, Richard Wagner. He learns about the health craze of the time and attempts the equivalent of a 1913 Jane Fonda workout. He travels to Leipzig on a historic railway line, built by British engineers in 1839. In Brunswick, he learns how the arrival of the railway added its own flavour to the local beer before moving on to Hamburg, where he discovers model railway making on the grandest of scales.
In Kiel, Michael learns about the intense rivalry between Kaiser Wilhelm of Germany and his uncle, British King Edward VII, at the Kiel Week yacht races. Michael boards an early 20th-century yacht to experience the thrill for himself and learns how British yachtsmen spied on the German navy.
Follow Michael
Fares from Dresden to Kiel, with stops in Leipzig, Braunschwieg and Hamburg would start from around £80 per person. You may wish to include City Travel Cards to explore Hamburg, Leipzig or Kiel.
Series 2 Episode 4 - Copenhagen to Oslo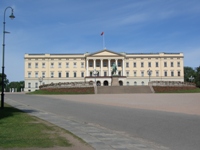 Armed with his 1913 railway guide, Michael Portillo explores Scandinavia and discovers the royal roots of early 20th century British travellers' close dynastic ties with the kingdoms of Denmark and Norway. After braving one of the world's oldest rollercoasters in Copenhagen's famous Tivoli Gardens, Michael takes the train across the Øersund Bridge linking Denmark to Sweden, where he retraces the tracks of a train which carried a revolutionary Russian passenger on an epic voyage.
In Lund, he samples a Smorgasbord before having a Highland fling in Gothenburg, where he test drives a vintage Volvo. Crossing the border again into Norway, Michael discovers how in 1913 this young nation expressed its own distinctively modern identity in plays, paintings and polar exploration.
Follow Michael
Fares from København to Oslo, with stops in Malmö, Lund, Göteborg and Trollhätten start from around £90 per person. This includes crossing the Øersund bridge.Book your trip on a Buda Velocipede in advance for 250SEK per vehicle.
Series 2 Episode 5 - Prague to Munich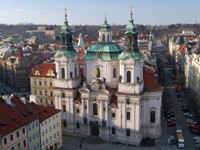 With his 1913 guidebook in hand, Michael Portillo explores the stunning art nouveau architecture of the Czech capital. In a café popular with artists of the time he discovers the dance craze of the day - the tango - and gamely gives it a go. In the spa of kings, Marienbad, now known as Marianske Lazne, Michael samples the sulphurous waters and wallows in peat and mud. At the Skoda factory in Pilsen he investigates how the machine products of peacetime gave way to the manufacture of armaments for war and test drives a state of the art passenger train locomotive made there today.
Crossing the border from Bohemia to Bavaria, Michael encounters a fire breathing dragon in Furth-im-Wald and in Nuremberg he rides German railway history - made in Britain. Arriving in Munich, he finds a blue horse created at the time of his guidebook and discovers an early 20th century pioneer who laid the foundations for the city's pre-eminence in science and technology today.
Follow Michael
Fares from Prague (Praha) to Munich (München) with stops in Plzeň, Furth-im-Wald and Nürnberg start from around £54 per person. You may prefer to use Ländertickets such as the Bayern Ticket or Bayern-Böhem Ticket to make these journeys.
Series 2 Episode 6 - Bordeaux to Bilbao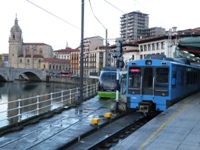 Following in the footsteps of early 20th century British tourists, Michael Portillo sets off with his 1913 railway guide to sample the delights of the French and Spanish Atlantic coast.
Heading first to Bordeaux, he uncovers an historic British connection to the fine clarets of the region and marvels at the ingenuity of the city's trams. In Biarritz, he discovers how Britain's 'railway king' Edward VII made the region popular and how he amused himself in the fashionable resort.
Across the border in San Sebastian, Michael learns how dynastic diplomacy brought Britain and Spain closer together and rides a hair-raising scenic railway. Heading into the Spanish Basque country, in Bilbao, Michael explores the industrial ties between the two nations and learns to cook a traditional Basque dish.
Follow Michael
Fares from Bordeaux to San Sebastian with day trips from Bordeaux to Saint Emilion and Arachon, and a stop in Biaritz start from around £73 per person. We are not able to issue tickets for the EuskoTren from San Sebastian to Bilbao, tickets for this must be purchased locally in cash.
Series 3 Episode 1 - Tula to St Petersburg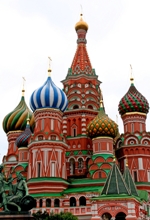 With Bradshaw's 1913 Continental Railway Guide in hand, Michael Portillo penetrates the eastern extreme of Europe to journey through the vast country of Russia. Among the golden onion domes and icons of Tula, Michael is moved by the sound of a Russian Orthodox choir. He visits the beautiful country estate of Yasnaya Polyana, where Tolstoy wrote his masterpieces and learns how the author's life and works were inextricably entwined with the railways. Striking north, Michael boards the long distance train which runs from the Caspian Sea to the capital. He learns from the buffet car cooks how to prepare a supper of meat-filled dumplings - Dagestani specialities called pylmeni. At Belorussky station in Moscow, Michael hears how thousands of Russians journeyed to the capital in 1913 to mark the Romanov royal family's tercentenary year. At the Bolshoi Theatre, Michael performs an important role in one of Russia's most dramatic operas. A relaxing soak at the famous Sanduny Baths, however, proves anything but...
Aboard the high speed Sapsan to St Petersburg, Michael discovers the history behind the line, once the longest double-tracked railway in the world. From the Grand Hotel, Europe, advertised in his Bradshaw's, Michael explores the beauty and history of St Petersburg, from the great Nevsky Prospekt to the magnificent Winter Palace with its Hermitage Museum, then rides the first railway ever built in Russia between the city and the Tsar's village - Tsarskoye Selo. Back in the city again, Michael meets former Russia correspondent, Martin Sixsmith, to discover how the strikes, mutinies and massacres, which took place shortly before Bradshaw's 1913 guidebook was published, were to unfold and the part the railways were to play in those tumultuous events.
Follow Michael
Trains from Tula to Moscow take two to three hours, the train from Makhackala currently leaves Tula about 4pm, arriving at Moskva Kurskaya station at 7:45pm. There are alternatives through the day. Sapsan services also run throughout the day from Moscow to St Petersburg. The entire journey costs around £110 per person in 2nd class. The line to Tsarskoye Selo is now part of the St Petersburg suburban system and tickets would need to be purchased locally.
Series 3 Episode 2 - Rome to Taormina

Michael Portillo takes the train down the spine of Italy from Rome to Sicily. Braving the traffic, Michael begins his Roman holiday by weaving among the capital city's magnificent landmarks on the back of a 1950s Vespa. Following in the footsteps of early 20th-century British tourists, he pays homage to the romantic poets at the foot of the Spanish Steps before boarding the train south. Arriving in Naples, Michael savours spectacular views across the bay. He finds out about the first railway to be built in the country, from Naples to Portici, around the base of Vesuvius and then plucks up his courage to venture into the mighty volcano's crater. From Naples, pausing only to pick up a pizza, Michael boards a ferry to travel to the beautiful island of Capri, a magnet for the writers and artists of Europe at the time of his guidebook. Heading south again on the long journey to Reggio Calabria, Michael shares lunch on board with fellow British travellers before their train is loaded onto a ferry for the short sail to Sicily. On the island, Michael finds out about apocalyptic scenes at Messina only five years prior to publication of his guidebook and marvels at the survival - and beauty - of the ancient hilltop town of Taormina, in the shadow of Mount Etna.
Follow Michael
There are frequent trains between Rome and Naples, costing from around £27 per person. Tickets for the Circumvesuivana Railway must be purchased locally. The ferry across to Capri can be booked on our website. The InterCity train from Naples to Taormina costs from just £18.50
Series 3 Episode 3- Warsaw to Krakow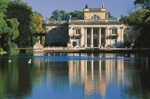 With his 1913 Bradshaw's in hand, Michael Portillo journeys deep into central Europe to explore a country where east meets west: Poland. Beginning in Warsaw, Michael is puzzled by how a city famously razed to the ground after the Second World War can appear so beautifully preserved. He hitches a ride in a 1913 carriage to discover one of the secrets of its restoration. Inspired by the music and story of Poland's national icon, Frederic Chopin, Michael takes to the floor to dance the Polonaise with high school students rehearsing for their leavers' ball. Heading south west from Warsaw, Michael's fellow passengers come to his rescue with a crash course in Polish pronunciation. Arriving in Lodz, he discovers how the former industrial heartland - the Manchester of Poland - supplied the vast Russian Empire of the early 20th century and marvels at how the region today has been transformed into a breathtaking version of 'Hollywoodzh.' Michael makes his movie debut. In Poznan, at the heart of former German Poland, Michael takes in the view from the kaiser's balcony before climbing aboard what is possibly the last steam-powered commuter train. Michael is in his element, stoking the boiler on the footplate of the enormous locomotive. Arriving in Wroclaw, Michael heads for a giant train factory, where they continue to manufacture car bodies for locomotives today. A spot of on-the-job training as a welder is a salutary lesson to stick with the day job. From Wroclaw it's on to the ancient capital of Poland, Krakow, where Michael lunches in a milk bar and takes a tour in an iconic vehicle of the communist era.
Follow Michael
There is a frequent local train service between Warsaw and Łodz, travelling onward to Poznan requires a further change at Kutno. Tickets for the Wolsztyn steam hauled trains must be purchased locally. Tickets from Warsaw to Poznan via Łodz and Kutno, and from Wrocław to Krakow would cost around £80. You may wish to consider using the One Country InterRail pass.
If you wish to find out more about European rail travel or would like to book a ticket please don't hesitate to contact us direct on 01766 515630 or email info@ffestiniogtravel.co.uk. If you would prefer to book a holiday including all aspects of Michael's travels please have a look at the Ffestiniog Travel website for suggested package breaks.