Amtrak USA Rail Pass
The total experience, the U.S.A. - from coast to coast on the entire Amtrak network. There are three travel options with the USA Rail Pass, featuring 15-days, 30-days or 45-days of travel with a corresponding number of permitted travel segments.
There are three travel options with the USA Rail Pass:
- Travel 8 segments* over 15-days
- Travel 12 segments* over 30-days
- Travel 18 segments* over 45-days
*A travel segment is any time you get on and then get off a vehicle (train, bus, ferry or other allowable leg)
As seat or berth reservations on all Amtrak services are compulsory we recommend that reservations be made prior to arrival in the US and as far in advance as possible. The pass alone is not valid for travel. It must be accompanied by reservations for travel on the relevant trains. On some trains, you can upgrade your accommodations to Business Class or Sleeping Car accommodations.
Children aged 2 to 15 years travel half-price when accompanied by a full fare-paying adult. Two children are permitted per adult fare. One child aged under 2 years may ride free with each fare-paying adult.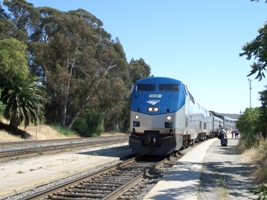 | | |
| --- | --- |
| 8 segments over 15-days | CALL FOR PRICE |
| 12 segments over 30-days | CALL FOR PRICE |
| 18 segments over 45-days | CALL FOR PRICE |
Please note prices are subject to change at short notice due to currency fluctuations.
These prices include our 8% cover charge per pass and will send you an exchange voucher so you are all prepared for your travels.
In order to issue the pass we will require each passengers full name, date of birth and passport number.
Please contact us on 01766 512400 or eMail: info@ffestiniogtravel.co.uk for more information or to buy a pass.
Timetables for Amtrak services may be found in the "Beyond Europe" sections of June and December editions of The European Rail Timetable
For travelers outside of the United States, send your name, desired travel dates, your USA Rail Pass Confirmation Number and the trains on which you want to travel to inat5@sales.amtrak.com prior to arriving in the United States, or call (001) 215-856-7953 during regular business hours (Monday-Friday from 8:30-17:00 ET). If you are already in the United States or Canada, call 1-800-872-7245 and speak to a reservations agent.
Conditions of use
VALIDITY:
The USA Rail Pass is valid for regular Coach Class travel on all Amtrak trains except Auto Train, Acela Express, Metroliner, Certain Thruway motorcoach connections, the Canadian portion of trains operated jointly by Amtrak and Via Rail Canada. Travel on Amtrak requires full identification. A valid passport or US issued identification card, such as a driver's license or picture ID card, is required.

REFUNDS: Refunds are discretionary, based on the following conditions. The client must send the original ticket back undamaged. Refunds must be submitted at least 7 days prior to the departure of the reserved train. A 20% service fee maybe charged on refunds.

LOST TICKETS:
E-tickets and passes cannot be reissued if lost or stolen.

How to Exchange your E-ticket
Passengers will receive a voucher which must be exchanged for the actual rail pass upon arrival in the USA before travel begins. The USA Rail Pass Confirmation number can be used at any of the following staffed stations to retrieve the pass:
Albany- Rensselaer, New York; Albuquerque, New Mexico; Atlanta, Georgia; Baltimore (Penn Station), Maryland; Boston (Back Bay), Massachusetts; Boston (South Station), Massachusetts; Buffalo-Depew, New York; Chicago (Union Station), Illinois; Denver, Colorado; Emeryville, California; Houston, Texas; Jacksonville, Florida; Kansas City, Missouri; Los Angeles, California; Memphis, Tennessee; Merced, California; Metropark (Iselin), New Jersey; Miami, Florida; Montreal, Quebec; New Brunswick, New Jersey; New Carrollton, Maryland; New Haven, Connecticut; New Orleans, Louisiana; New York (Penn Station), New York; Newark (Penn Station), New Jersey; Newark Liberty International Airport, New Jersey; Niagra Falls, New York, United States; Oakland (Jack London Square), California; Orlando, Florida; Philadelphia (30th St), Pennsylvania; Portland, Oregon; Providence, Rhode Island; Sacramento, California; Salt Lake City, Utah; San Antonio, Texas; Sand Diego (Downtown), California; San Francisco (Ferry), California; Savannah, Georgia; Seattle (Amtrak), Washington; St. Louis, Missouri; St. Paul/Minneapolis, Minnesota; Tampa, Florida; Toronto, Ontario; Trenton, New Jersey; Vancouver, British Columbia, Canada ; Washington, Destrict of Columbia; Wilmington, Delaware